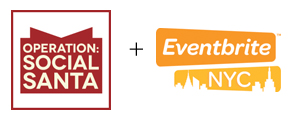 Eventbrite & Operation Social Santa #BritePreGame to New Years
IT'S TECH TUESDAY with Eventbrite & Operation Social Santa!
Have you worn that ugly sweater one too many times this holiday season? Here's your chance to celebrate the end of 2012 at the Eventbrite & Operation Social Santa #BritePreGame to New Years.  
Grab a toy & your friends and meet us at the Tribeca Grand Hotel December 18th. WineAwesomeness.com is hooking us up with a champagne tasting, Riazul Tequila is hosting a 1 hour open bar from 7-8pm & Eventbrite is hosting a tab – so drinks til it runs out!, Pop Chips is providing the snacks.
Eventbrite will have computers on-site for you to find the perfect NYE event to attend, & Tribeca Grand Hotel is providing a DJ spinning a power set.
What's a Pregame without games? 
We're packing all of the tables with your favorite board games (Candy Land, Jenga, Hungry Hungry Hippos, etc!) cards, and dice so you can sit down and get your game on whenever you feel the urge to own! Pop Chips will be providing pregame munchies to keep you going
Operation: Social Santa
In the spirit of the holidays & Tech Tuesday, we'll be partnering with Operation: Social Santa & #NYTechResponds to collect toys & donations for those affected by Hurricane Sandy.  Please bring 1 new unwrapped toy for entrance.
Play Hard, Ride Safe
We want you all to party hard, but we also want you to get home safe. UberNYC will be providing 25% off rides for existing customers [use code: uberpregamenyc ] (sweet!) as well as a free ride (up to $25!) for any new users [use code: BritepregameNYC].
What else?
Solo cups (of course!), no pre-game is complete without and we'll have a photographer on hand to capture the night, so you don't have to!
For more information and to RSVP, visit:
http://pregamenyc.eventbrite.com/
Any questions regarding this event please reach out to [email protected]
HUGE Thanks to our Partners & Sponsors: