What scares you? What chills you to the bone and gives you night sweats. Until last week it was the looming L-pocolypse which Cuomo put a stop to (or did he?). If you're a New Yorker then your sanity is already at risk every time you step through the turnstyle. But what's more terrifying than taking an UBER home and the passenger sitting next to you has had about a keg of whiskey and is about to show it to you, personally? The NYC Horror Film Festival, that's what. 2019 marks the festival's 17th year as America's largest and most recognized genre film festival. My girlfriend and I, both being horror fans since we were too young to watch scary movies, have attended the festival for the past four years. Last December was their 16th season of gore and it was was a bloody good one.
Book of Monsters was the winner of 2018's Best Feature award. Inspired by Director Stewart Sparke's love of 80s creature features like Gremlins and Critters, he wanted the film to pay homage to the rubber monsters of the era but pit them against strong, kick-ass women that reflect modern horror heroines. Her certainly did it, and did it well. The story is about the main character Sophie's 18th birthday party, a birthday party like none other. It becomes a bloodbath when six terrifying monsters descend upon her house, intent on devouring the party guests and killing anyone who tries to leave. As her school friends are torn apart and eaten, Sophie must rally a band of misfits and take up arms to send their party crashers back to hell. Made with all old-school practical creature effects and a dark comedic edge, Book of Monsters was a deeply entertaining monster movie.
Equally terrifying was Luciana Faulhaber's film Don't Look, which she both Directed and starred in, winning the festival's Best Actress award. Her directorial debut, Don't Look is a homage to the cult, horror, and Grindhouse masked-killer movie tradition of the 1980's, with comedy horror campiness, gore and laugh-out-loud fun. The film centers around five New York City Millennials who escape the Big Apple for a rustic Thanksgiving weekend in the country. Arriving at their idyllic farmhouse getaway, everything seems perfect but the mood quickly turns sour as someone's painful memories begin to encroach and her friends suddenly start to go missing…one-by-one.
I also really enjoyed Alive, which won the award for Best Screenplay. It's about a man and woman who awaken post-surgery in an abandoned sanitarium with no memory as to who they are or how they got there. They soon discover they are not alone when a crazed doctor claims to be their only chance for a full recovery. I'll never trust my doctor again after seeing this, and you won't either.
The festival also presents a Lifetime Achievement Award each year to honor outstanding performance and accomplishment that has substantially influenced the horror genre. Past recipients have included the late great father of all Zombies, George Romero (RIPieces George), the "Godfather of Gore" Herschell Gordon Lewis, and the award-winning special make-up effects creator, actor, stuntman and director Tom Savini, among many others.
This years recipient was none other than The Candyman himself, Mr. Tony Todd. He has become a film icon in the horror and sci-fi realms starring in the CANDYMAN, HATCHET, and FINAL DESTINATION franchises, but his credits include so many others that we can't mention them all. Films grossing more than $6 Billion at the box office worldwide have made the name Tony Todd box office gold. His most recent project was starring in the film HELL FEST for producer Gale Ann Hurd.
Since his film debut in the motion picture SLEEPWALK in 1986, followed almost immediately by a starring role in Oliver Stone's Academy Award winning film, PLATOON, this charismatic six foot five-inch-tall actor has consistently turned in compelling performance after compelling performance in everything he'd done.
I'm personally a big fan of Tony's work, and so was the NYC Horror Film Festival's founder, Michael Hein. I never had the opportunity to meet him before his passing in 2011, but I've got to know his mother Ronnie Hein, who should receive a special award every year for keeping this amazing festival going in memory of her son. From my experience at their past festivals Ronnie doesn't take the spotlight much although you know she runs the show, but this year we had a rare opportunity to see her present the Lifetime Achievement Award to Tony Todd. While all previous award winners have been special, this year was different. Ronnie told Tony that her son was a big fan of his, and that his love of horror had a lot to do with Tony's films. She said he would be especially honored for his festival to award Tony, someone he really admired. To anyone who was at the award ceremony let me tell you, it was tear-jerking. Really a beautiful moment. Tony gave an exceptional acceptance speech. Michael Hein, you would be proud!
We can't wait to see this year's showcase. Maybe one of our ghoulish friends from NYC GRINDHOUSE or the New York Horror Movie Meetup will submit a film (hint, hint…).
For more info on the NYC Horror Film Festival (NYCHFF) check out them out on Facebook at www.Facebook.com/NYCHorrorFilmFestival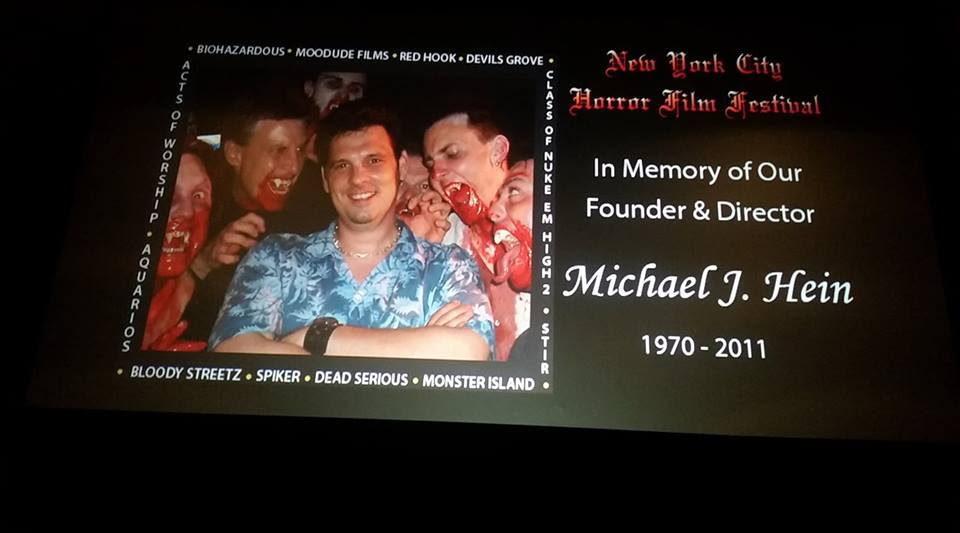 MICHAEL J HEIN
(1983 – 2011)
Founder of the New York City Horror Film Festival
When it came to movie making, Michael did it all, from Special Effects Make-up Artist to Screenwriter, from Producer to Director. Through his company MooDude Films, Michael produced and directed various movies including: The Word, Blood Rails, Red Hook, Dead Serious, Biohazardous, Cyclone, andThis is How My Brother Died. He also produced and packaged the popular DVDs, Killer Shorts, parts 1 & 2.
In addition to screenwriting, producing and directing, Michael is the Founder and Director of the New York City Horror Film Festival, America's largest and most recognized genre film festival, held yearly at various venues throughout New York City. The festival is competitive, screening approximately 50-60 films each year.
Amongst Michael's other accomplishments, he spoke about filmmaking at Notre Dame University and gave the prestigious AE lecture in NYC. He was also featured in the documentary Even More Scarier Moments broadcasted on Bravo, and was one of the subjects in the book Splatter Flicks: How to Make a Low Budget Horror Film.
The NYCHFF has grown to be a world recognized event, with industry, filmmakers, and press attention from around the globe. The Hein Family is committed to keeping the festival alive in memory of the truly missed and loved founder Michael J Hein.

The NYC Horror Film Festival's 2018 Awards went to:
Best Feature…………………………………………….. BOOK OF MONSTERS
Best Short………………………………………………….THE WHISTLER
Best Actor…………………………………………………..THOMAS COQUERAL
Best Actress……………………………………………… LUCIANA FAULHABER
Best FX……………………………………………………..BOOK OF MONSTERS
Best Sound Design……………………………………. BOOK OF MONSTERS
Best Screenplay………………………………………….ALIVE
Best Director………………………………………………ROB GRANT (Alive)
Best Cinematography…………………………………. ALIVE
Best Sci-FI…………………………………………………AFTER THE LETHARGY
Best Unproduced Screenplay Feature……………NGORATH (Tristin Biber)
Best Uproduced Screenplay Short…………………MOURNING MEAL (Jamal Hodge)
Audience Choice…………………………………………HEARTLESS

CONGRATULATIONS TO ALL THE WINNERS!
NEW YORK CITY HORROR FILM FESTIVAL
December 5th – 8th, 2019
The Cinepolis, Chelsea, NYC

Celebrating their 17th year!
www.Facebook.com/NYCHorrorFilmFestival
www.NYCHorrorFest.com
Photos via New York City Horror Film Festival